Recent Comments
No comments to show.
Gelato Runtz
$250.00 – $2,400.00
Gelato Runtz – Genetics: Runtz x Gelato #33 Type: Hybrid Seed Type: Feminized Flowering: 8-9 weeks Yield:
Compare
Gelato Runtz
buy Gelato Runtz – Genetics: Runtz x Gelato #33 Type: Hybrid Seed Type: Feminized Flowering: 8-9 weeks Yield: Moderate Potency: Very high SKU: GLRZ-F Gelato Runtz was made by reversing our Runtz and pollinating our Gelato #33.
Runtz is an elite, sought-after strain that has been receiving a lot of well-deserved hype. The first time we grew it, the reason for all the hype was obvious. Runtz is absolutely covered in frost with some purple and violet hues mixed in.
Runtz was created through a delicious cross of the infamous Zkittlez x Gelato strains. Runtz brings on a delicious fruity flavor with tropical citrus and sour berries with a spicy pineapple aftertaste. Runtz has been tested as high as 29% THC. Gelato Runtz

Gelato was created through a cross of the famous Sunset Sherbet x GSC (f.k.a. Girl Scout Cookies). This tasty strain is famous for its delicious flavor and euphoric high. This strain has a flavor that's said to be much like a sweet sherbet, with fruity blueberry and orange flavors.
The aroma is just as sweet, with a lavender citrus berry bouquet. For fans of Gelato #33, this cross will exhibit strong Gelato genetics with some Runtz to give it some variation. Gelato Runtz
130cm. You'll receive a rewarding yield of 450–500g/m² after a flowering time of 8–9 weeks. Runtz also grows to a medium height when cultivated outdoors. Here, she'll produce a harvest of up to 500g/plant. Prepare to harvest your crop in early October.
Runtz produces visually stunning and aesthetically rare flowers. Her buds are compact and nugget-like in appearance. Expect to be treated to beautiful shades of deep purple and dark green. Bright orange pistils pop on this multicoloured canvas.
Her medium height makes her easy to control in almost all environments. Runtz displays a typical indica growth pattern and plenty of lateral growth. Gelato Runtz
You can tame her wild side by using techniques such as topping and low-stress training. This will help to open up her dense canopy and expose bud sites to more light.
SMOKING RUNTZ: FLAVOUR & EFFECTS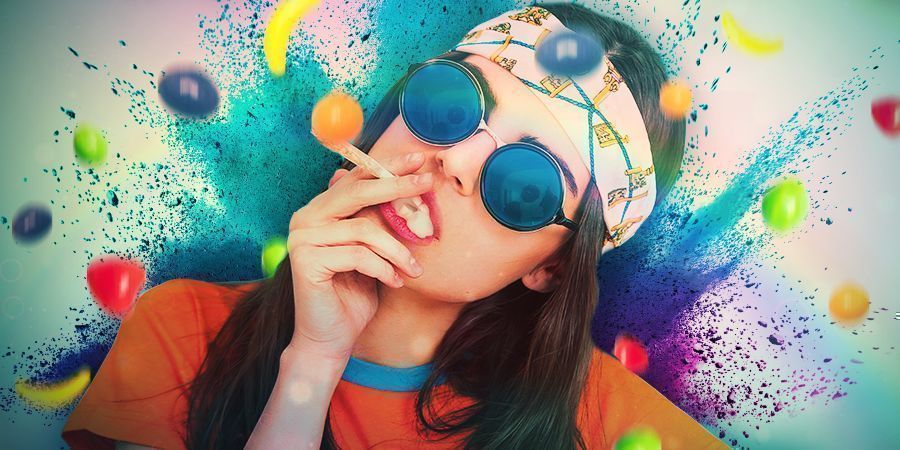 Runtz delivers an instant altered state of consciousness. A mammoth THC content of 27% fuels her powerful effects. Her balanced genetic profile of 50% indica and 50% sativa ensures the high targets both the body and the mind.
After hitting a bong or blunt, you'll notice the immediate onset of her sativa qualities. Her cognitive effects include a surge in motivation, a social mood, and the desire to get up and move.
During this portion of the high, she's the perfect strain for outdoor activities. Hit the hiking trail with friends and delve deep into conversation as she supercharges your central nervous system.
Eventually, the high tapers off into an indica body stone. The muscles relax, the mind becomes still, and the appetite begins to increase. Now, it's time to get comfortable. Cook some food, put on a good film, and snuggle up in some blankets.
Delicious tastes of candy and fruit infuse every hit. Take her high to another level of potency by cooking up a tasty batch of edibles. Runtz features high levels of the terpenes caryophyllene and limonene. These molecules provide additional tastes of pepper and lemon.
RUNTZ: AN EASY RIDE
If you love the sound of Runtz strains, but don't have the time to tend to all the needs of a photoperiod strain, then we have just the thing for you. Runtz is also available as an autoflowering variety: Runtz Auto.
Runtz Auto retains the same famous flavours and effects as photoperiod Runtz strains, but completes its lifecycle in 10 weeks or less, and requires significantly less maintenance.
Granted, if you want the biggest yields and the most extreme potency, then the photoperiod version is better suited to you, but rest assured that Runtz Auto still delivers.
And it gets even better. Zamnesia and iGrowCan have collaborated to make growing Runtz Auto one of the easiest things in the world. The iGrowCan is an all-in-one grow kit that makes growing autoflowering cannabis seeds unbelievably easy. Gelato Runtz
Simply plant the seed in the can and follow the included instruction. In short, these require you to water regularly and feed with the included nutrients. Other than that, give it as much light as possible and watch it flourish. After that, you can sit back and sample your own homegrown high grade.
RUNTZ HAS IT ALL. Gelato Runtz
Runtz provides unique flowers with a monumental amount of THC and tasty terpenes. The strain offers great yields both indoors and outdoors while remaining at an easily manageable height. Just remember, take things slow. A THC content of 27% can be a shock to the system!
| | |
| --- | --- |
| Weight | N/A |
| Quantity | Ounce, Quarter Pound, Half Pound, Pound |
SKU: N/A
Category: EXOTIC STRAINS
Tags: acai berry gelato weed strain, acai gelato weed strain, apple gelato weed strain, apricot gelato weed strain, bacio gelato weed strain, banana gelato weed strain, berry gelato weed strain, biscotti gelato weed strain, black cherry gelato weed strain, black gelato weed strain, blackberry gelato weed strain, blue gelato weed strain, blueberry gelato weed strain, bubble gum gelato weed strain, bubblegum gelato weed strain, buy gelato runtz online, buy gelato strain weed washington state, candy gelato weed strain, caramel apple gelato weed strain, caramel gelato weed strain, cherry gelato strain of weed, cherry gelato weed strain, chocolate gelato weed strain, creamy gelato weed strain, cross between gelato and ms.universe weed strain, exotic gelato zaza weed strain, fiore gelato weed strain, frost gelato weed strain, frosted gelato weed strain, garlic gelato weed strain, gelati vs gelato weed strain, gelato 22 weed strain, gelato 25 x dosidos weed strain review, gelato 3 weed strain, gelato 33 weed strain, gelato 33 weed strain effects, gelato 33 weed strain review, gelato 33 weed strain thc, gelato 41 weed strain, gelato 41 weed strain allbud, gelato 42 weed strain, gelato 43 weed strain, gelato 44 weed strain, gelato 45 weed strain, gelato 47 weed strain, gelato 48 weed strain, gelato 51 weed strain, gelato and ms.universe crossbreed weed strain, gelato and sherbert weed strain, gelato blue power weed strain, gelato breath weed strain, gelato cake weed strain, gelato cookies weed strain, gelato cream weed strain, gelato gas weed strain, gelato glue weed strain, gelato ice cream weed strain, gelato ice weed strain, gelato mint weed strain, gelato n weed strain, gelato og strain weed, gelato og weed strain, gelato pie weed strain, gelato pop weed strain, gelato punch weed strain, gelato punch weed strain leafly, gelato runt weed strain, gelato runtz, gelato runtz for sale online, gelato runtz price, gelato runtz strain, gelato runtz thc level, gelato runtz weed strain, gelato runtz weed strain indica or sativa, gelato sherbert weed strain, gelato strain of weed, gelato strain weed, gelato strain weed intervention, gelato weed strain, gelato weed strain cbd, gelato weed strain description, gelato weed strain effects, gelato weed strain grow time, gelato weed strain images, gelato weed strain in denver medical, gelato weed strain indica or sativa, gelato weed strain info, gelato weed strain leafly, gelato weed strain lineage, gelato weed strain origin, gelato weed strain oriigin, gelato weed strain reddit, gelato weed strain review, gelato weed strain what does it smell like, gelato x weed strain, grape gelato weed strain, green gelato weed strain, guava gelato weed strain, hiw strong is gelato strain weed, hybrid gelato weed strain, ice cream gelato weed strain, ice gelato weed strain, iced gelato weed strain, icy gelato weed strain, is gelato weed sativa strain, is gelato weed strain indica or sativa, italian gelato weed strain, jelly gelato weed strain, jet fuel gelato weed strain, lemon cherry gelato weed strain, lemon gelato weed strain, mango gelato weed strain, mochi gelato weed strain, names for gelato weed strain, orange gelato weed strain, order weed strain gelato online, peach gelato weed strain, peanut butter gelato weed strain, pineapple gelato weed strain, pink cherry gelato weed strain, pink gelato weed strain, platinum gelato weed strain, purple gelato weed strain, rainbow gelato weed strain, raspberry gelato weed strain, rock star gelato weed strain, sherbert gelato weed strain, silky gelato weed strain, sour gelato weed strain, strawberry gelato weed strain, strawberry lemon gelato strain weed, sunset gelato weed strain, super gelato weed strain, sweet gelato weed strain, tan gelato weed strain, triple scoop gelato weed strain, watermelon gelato weed strain, wedding gelato weed strain, weed gelato strain, weed strain black cherry gelato, weed strain blue gelato, weed strain cherry gelato, weed strain gelato, weed strain gelato 33, weed strain gelato 41, weed strain gelato 45, weed strain gelato 51, weed strain gelato cake, weed strain lemon cherry gelato, weed strain review gelato, what is gelato weed strain, what strain is gelato weed, what strain of weed is gelato, white cherry gelato weed strain, white gelato weed strain, white raspberry gelato weed strain